This blog post originally appeared on www.hannahcastleman.co.uk
After a manic December of gigs, I needed a break - I started my year off with a weekend away in New York. My brother surprised me with the trip for my birthday last May, which was amazing for so many reasons, but mostly because it meant i got to hang out with him for four days straight. We did nothing but eat, walk and talk. Here are some highlights of our adventures across the pond.
Food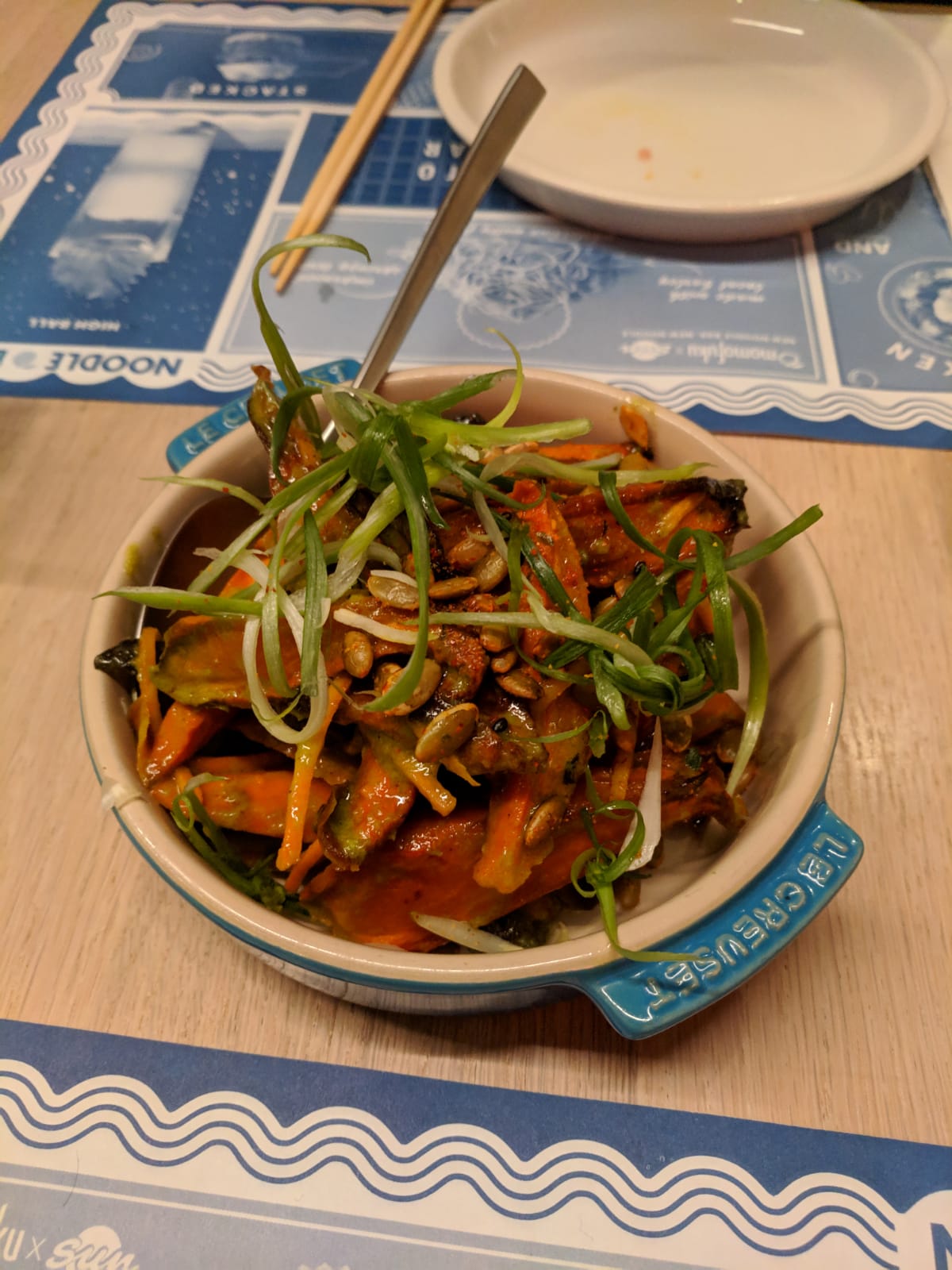 Momofuku served us one of the best meal's I have ever had, full stop. This was a dish of roasted carrots with scallions and pumpkin seeds; the flavours were unbelievable. I wish we had time to go back and order everything else we didn't get a chance to try.
We wanted to listen to some live jazz while we were in New York, which is why Joe suggested heading to Arturo's. There was a pianist playing some classic tunes, but the music wasn't as much as a feature as we thought it would be. However, the pizza was magnificent. This pizza of dreams was half cheese with olives & garlic (Joe's), and half no cheese with anchovies, peppers & onions (mine). We were going to order one each but the waiter kindly stepped in and told us that would be ridiculous. He was right; this was the biggest pizza I've ever seen.
My food highlight of the trip was Johny's Luncheonette, a classic diner with counter service. Joe went for pancakes, and I ordered eggs with turkey bacon and home fries. We sat at the counter and drank a lot of coffee. The food was amazing, but it was the all round experience that made this my highlight.
One of the highlights of the trip was Milk Bar - I've wanted to visit for ages. I have bored everyone I know with telling them about the diet I'm on to help heal my chronic immune problems; the diet is strictly no sugar but you better believe I broke it to eat a lot of the Birthday Cake. (We also sampled the Crack Pie, Cereal Latte, Confetti Cookie and the B'Day Truffles - don't judge us.
Sights
On Joe's to do list was the Staten Island Ferry - it's free and a great way of getting a bit closer to the Statue of Liberty.
I took the subway for the first time…baby steps.
It was -6 degrees, so prettttty cold, but what a way to see the city.
Shopping
I did a small bit of shopping in New York; I'm trying not to buy new clothes as I'm committed to the sustainable & recycled fashion route that I started last year. However, I do believe in buying good quality basics that will last, so a trip to Uniqlo was a must. A trip to New York is also not complete without stopping by The Strand Book Store - I spent about an hour looking at books and managed to restrain myself and only get one. Apart from that, plus a quick stint in Sephora & Uniqlo, Joe and I focused on walking and food, which was exactly what New York is about for us.
My outfit from Uniqlo, plus boots from Jones that I snagged off eBay a few months ago. This wall was in the Chelsea Cambria Hotel where we were staying.
I wax lyrical about Glossier on a daily basis, and their flagship store was well worth the 50 minute walk from the hotel.